Datto Autotask PSA Improves With New 2023.5 Release
In 2017, Datto acquired Autotask with a vision to deliver the ultimate Professional Services Automation (PSA) platform for MSPs. Fast forward to 2023, following Datto's own acquisition by Kaseya, and the story of Autotask continues with a fresh outlook.
We're thrilled to announce the release of Autotask 2023.5 — an offering that reflects Kaseya's substantial investment in strengthening the platform's presence and capabilities within the MSP community. This year, Autotask takes center stage once more, reaffirming its position as the go-to PSA solution for managed service providers.
But that's not all. As part of Datto's unwavering commitment to restoring the unique Autotask brand, we've proudly reintroduced Autotask Community Live. This eagerly awaited event unfolded as a pre-day experience leading up to Kaseya DattoCon 2023 in the vibrant city of Miami, FL. Dedicated to everything Autotask — and now, with the robust backing of Kaseya, everything IT operations as well, including Datto RMM and IT Glue — this event marked a new chapter in our journey.
Our new 2023.5 release rolls out over the coming weeks and demonstrates Kaseya's investment in Autotask to fit the unique needs of the MSP community, helping you scale and grow as your business continues to accelerate.
Check out what's new in Autotask 2023.5:
Revamped client portal (beta)
Our brand-new, beta version of the client portal redefines the user experience by offering a modern, user-friendly interface. Now, enable early access with Autotask and allow users to toggle between the classic and new dashboard as they please. In addition to improved efficiency and navigation, the revamped client portal also comes complete with a new activity feed, designed to mimic a natural conversation thread. This lets your technicians interact seamlessly with your clients, enhancing communication and efficiency. With multilanguage support and an enhanced brand image, this is a leap forward in collaboration with your customers.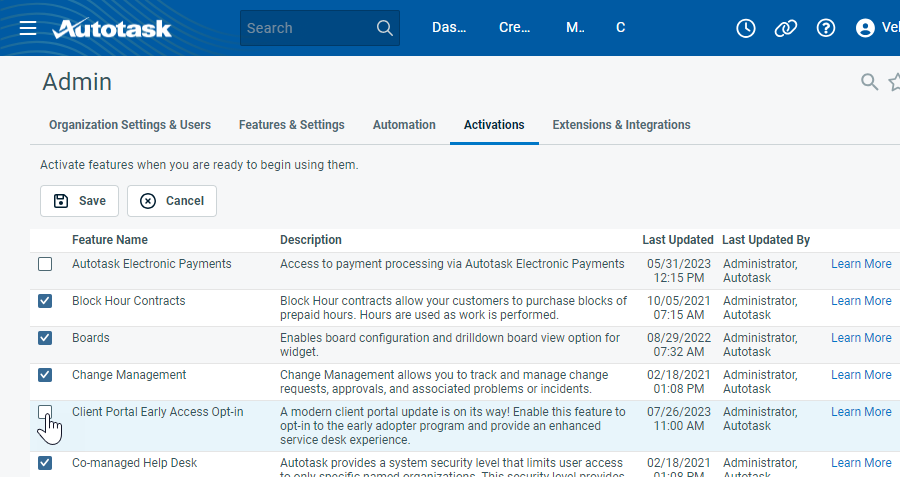 Auto-suggested IT Glue documentation
When it comes to supercharging your ticket insights, we're introducing a fantastic new feature for those who integrate Autotask with IT Glue. In addition to the existing insights for passwords and suggested documents, we're adding a new ticket insight for relevant IT Glue Flexible Assets. These insights can be added to ticket categories, helping support technicians find relevant information quickly. With a centralized repository of documentation at your disposal, this feature ensures standardized responses and accelerates ticket closures.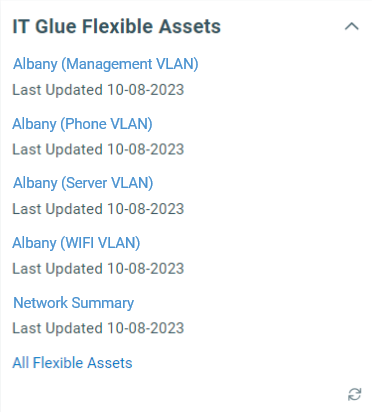 Integrated service ticketing
With the growth of IT support services comes an influx of tools — and that can lead to alert fatigue. Don't worry though. We've got your back with our integrated service ticketing feature that automatically generates tickets in Autotask based on alerts from various Kaseya solutions. Monitor and manage all alerts in one place with support for Graphus, Datto Workspace, ConnectBooster, Datto File Protection and Spanning for Salesforce.
Create tickets with workflow rules
No more manual ticket creation for critical tasks. Autotask's 2023.5 release includes a feature that allows you to set up workflow rules to create tickets for a range of activities. For instance, you can now create tickets when an opportunity is won, or just before SSL certificates expire, ensuring consistent and efficient management of critical tasks.
Streamlined attachment management
We heard your feedback and have made attaching items across Autotask a breeze. We've eliminated unnecessary clicks and complex navigation. We've also added a visibility feature that provides a clear view of your attachment history, including upload and modification timestamps. Managing your tasks is now easier and more transparent than ever.
Autotask 2023.5 also brings nearly 20 usability improvements to the overall Autotask experience. Many of these improvements came directly from our partners through the Community, our Account Management or Support organization, or other means of feedback.
We continue to listen to your feedback and build technology that helps make everyday business tasks even easier. The Autotask 2023.5 release not only brings efficiency but also underscores Kaseya's commitment to the Datto line of products.
If you're an Autotask user, learn more in the release notes and watch for these updates in the coming weeks. Otherwise, see these new features and the full power of Autotask in a live demo.